Coming as absolutely no surprise to anyone who has been following Gorge Cup action this year, Bruce Peterson has once again claimed this year's windsurfing slalom series title — made official after the Sailworks co-founder ran the table in the final two days of racing last weekend during the Dakine Derby at the Event Site.
Peterson dominated the field in the Gorge Cup series this year, which included a total of 45 competitors who entered at least one of the seven races hosted by the Columbia Gorge Windsurfing Association this season. Though he didn't win every individual heat that made up each of the seven races, Peterson won every overall race this season with the exception of the July 2 contest, where he placed a measly second. In fact, Peterson, who competes in the grand masters category, was so far in front on the leaderboard that he could have placed dead last in the final two races and still won the title, since competitors get to toss out their worst two races after competing in seven.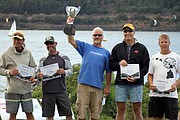 Photo by Carly Peterson
Below, Peterson raises his trophy after officially winning the series last weekend, alongside grand masters finishers MacRae Wylde, Sam Bauer, Corrie Gowland, and Bill Czinege (left to right).
"All of the racers that compete against Bruce are better sailors as a result," said Scotia Bauer, racer organizer for the Gorge Cup. "Even to the very casual observer, Bruce's skills shine through. The experience he brings from years of international competition combined with his technical knowledge provide a 'master class' environment every race day."
The victory marks a return to form for Peterson, who was sidelined with a hamstring injury after winning the first two races of the 2015 cup. He kept last year's cup winner, MacRae Wylde, at bay for the top honor.
"It's really satisfying to be back windsurfing on the race course and to win the Gorge Cup series again. I've won the series more than a few times over the years, but this season I took nothing for granted. A year ago this date I was hobbling around on crutches just two weeks out of hamstring reattachment surgery," Peterson said in an email Monday evening. "That was a long, slow recovery through the winter and I'm really thankful for my family and friends that helped keep me upbeat and motivated through the rehab. This year's Gorge Cup had a great fleet and (a) dozen new competitors. We had lot(s) of windy races which suits my 'big-power' style of riding. MacRae and I had some fantastic close duels, swapping the lead back and forth, which makes it super fun. The Gorge Cup Series is strong and I look forward to more racing next year."
Outside of Peterson, there weren't any upsets in the other race classes either, with this season's frontrunners holding their spots through the final contest. Other class winners included Tavis Perez (masters, third overall), Jay Salzman (senior grand masters, sixth overall), Alyson Fromm (open women, eighth overall), Charlie Sutherland (junior boys, 11th overall), Phil Soltysiak (open men, 13th overall), and Maya Madere (junior girls, 22nd overall).
Bauer said Saturday's competition brought great wind, as well as "some of the most exciting races of the season and great spectator support." The wind for Sunday's race was "light until the afternoon, then gusty and quite patchy." After the race, attendees enjoyed a barbecue and an awards ceremony.
Bauer added that part of the CGWA's Gorge Grom program, the A-Team, tried racing for the first time during Sunday's event and said that race officials "are hopeful that this strong group of young sailors join us for more racing next year."
Reporting thanks to Ben Mitchell, Hood River News. Full article available here: Perennial cup winner Bruce Peterson takes 2016 title